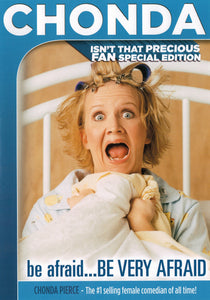 Chonda Mart
Be Afraid... Be Very Afraid SPECIAL FAN EDITION
Regular price
$ 11.99
$ 0.00
Just after the events of the fall in 2001, the nation was facing troubles and fears that it had never confronted before. So Chonda asked us "what are we afraid of?" Chonda answers the question in a way only she can, via musical numbers, skits, commercial parodies, rib-tickling stories and poignant moments from the heart. Fears and phobias, worries and doubts, scary sounds and scary people - nothing can withstand the comedic onslaught that Chonda delivers, because laughter lurks in every corner!
Special Edition Features:
All-new feature-length special as Chonda looks back at her life before and during filming of the DVD with tories and events she has never before shared with her fans!
Links on the disc to download the audio from the film - an exclusive to owners of this special edition! Now you can listen to Chonda on CD or any mobile device!
Remastered for today's televisions
Chonda Laugh-Tones. Just load on your phone and Chonda will tell you when you have a call and who is calling!
Desktop pictures - put Chonda on your computer!
---
More from this collection